Upturn for Delphi Nordic
07.09.2020
A new manager took over Delphi Nordic at the beginning of 2020. After a challenging first quarter, this fund has now achieved an excess return for five months in a row. We call that a rising trend.
Andreas B. Lorentzen was introduced as Delphi Nordic's new manager at the beginning of the year. Although new to Delphi Funds, he had extensive management experience. From 2008 to 2017, he achieved strong results as a manager in Storebrand's Norwegian share team, and later he gained valuable experience of Swedish shares when working for Holta Invest.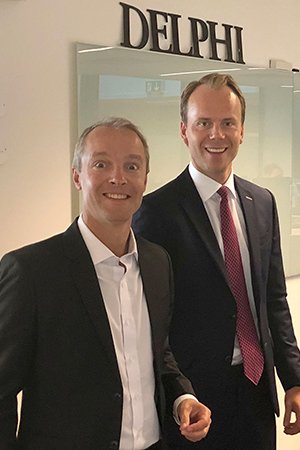 – Taking over an existing portfolio is a challenging exercise, even for those with a lot of management experience. It takes time to develop knowledge of the investment universe and portfolio candidates, which is a 'must' for being able to put together one's 'own' portfolio. Now we have come to the phase where unit holders are starting to reap the benefits of the efforts being made, says Bård Bringedal, Chief Investment Director of Storebrand Asset Management AS, of which Delphi Funds are part.
– Taking over Delphi Nordic was by no means straightforward. While I was becoming better acquainted with the portfolio companies and investment opportunities in the Nordic market, the stock markets were very turbulent, with shifting trends. This all came to a head in March, when the COVID-19 pandemic fully hit the markets. However, I was working to a clear plan to make the portfolio 'mine' during the first quarter. Since March, we've delivered an excess return each month, and this naturally makes me more self-confident in the stock picking, says Andreas B. Lorentzen, lead manager of Delphi Nordic.
Broader management team
At the start of June, Halvor Strand Nygård also joined the Delphi team as a manager. Nygård has 10 years' experience as an analyst with SEB, where he was heavily involved in both traditional and renewable energy. This knowledge is beneficial for the entire Delphi team. At the same time, his areas of responsibility will be Delphi Nordic, together with the lead manager Andreas B. Lorentzen.
– At Delphi Funds, we look on the Nordic region as our domestic market. Our proximity to the companies combined with our shared culture and understanding makes it rational to dive deeply into the company details. Hiring Halvor means we can do more deep dives. That creates more confidence about the companies we already own shares in and, not least, allows us to find additional exciting portfolio candidates, says Lorentzen.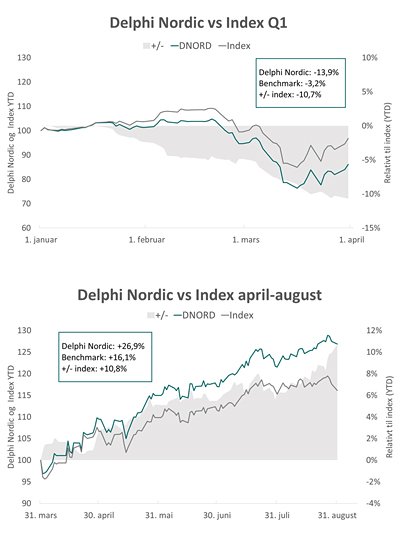 – The portfolio now has a number of different drivers, around 60 per cent of which can be linked to the megatrends of sustainability, health and technology. These are long-term trends in which we have particularly strong confidence. Other topics we pay extra attention to are active ownership and changes to a company's cash flow. Going forward, we also envisage giving even more weight to the portfolio companies that we have the most confidence in, so that we can benefit more from the best trends, says Halvor Strand Nygård.
The graph shows developments in the first quarter (note, measured in NOK), when Delphi Nordic clearly lagged behind its benchmark. The lowest graph shows developments over the past five months, during each of which the fund has created an excess return (also measured in NOK). So far this year, the fund is up 3.9 percent. In the last five years, the fund has risen 6.3 percent in annual average return (both figures as at 31 August 2020 and measured in EUR).
Delphi is strong across the board
While Delphi Nordic is showing its strength, Delphi's other funds are also doing well. Delphi Global, which is managed by Tian Tollefsen, has risen by 14.4 per cent so far this year, and its excess return is all of 15.6 percentage points. That makes Delphi Global one of the top-performing global funds on the Oslo Stock Exchange this year. In Morningstar's global universe, which consists of more than 2,000 funds, Delphi Global is among the 5 per cent best funds this year. At the same time, Delphi Europe, which is managed by Håkon H. Sætre, has achieved an excess return of 7.5 percentage points in 2020, with an absolute return however of minus 4.0 per cent. European shares have not experienced the same upturn as American ones, but we are now seeing several factors in their favour, among other things linked to the EU's willingness to invest in order to accelerate the green shift. In the last five years, Delphi Global and Delphi Europe are up 7.9 per cent and 0.1 per cent respectively in annual average returns (all figures as at 31 August 2020 and measured in EUR).
– Bearing in mind the adjustments we made at the beginning of 2020 when we changed the management responsibility for all the funds, the developments we are now experiencing are gratifying. The work of further developing the Delphi method is continuing with undiminished strength, as is the job of sharing knowledge and investment ideas across the funds, concludes Bringedal.
NB: You can follow developments in Delphi's funds via Delphi's newsletter. Register for the newsletter at the bottom of the front page.